In grades K – 12? Get free help from a live, online tutor using your LA County Library card and PIN number. Tutors cover math, science, English, social studies, essay review, and more! Available daily, 24/7, in English, Spanish, and Chinese.
Homework Centers
Many of our libraries offer enhanced resources, computers, and online services to support your homework needs. Check with your local library!
Borrow from your local library
Search and place a hold on materials in our catalog.
Libby, by OverDrive
Downloadable audio and eBooks, with special collections for Kids and Teens.
Hoopla
Downloadable audio and eBooks, with no waiting!
NoveList K-8 Plus
A guide to reading for grades K – 8. Browse by age or genre.
Borrow from your local library
Search and place a hold on CDs in our catalog.
Freegal
Stream millions of songs and download 5 songs a week to keep.
Hoopla
Borrow up to 8 items per month for 7 days. (Unlike Freegal, you do not keep the music).
Borrow from your local library
Search and place a hold on DVDs in our catalog.
Kanopy
On-demand streaming film service offering a wide variety of films, including documentaries, Great Courses, and lots of recent releases.
Hoopla
Borrow up to 8 items per month. Titles automatically expire at the end of the 7 day lending period.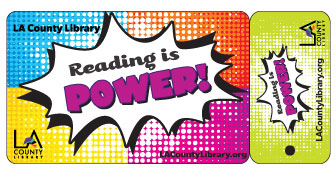 We've partnered with participating schools in our service area to offer the Student Card!
Did you recently get a Student Card? Welcome, we're so glad you're here! Your new card gives you:
Learn more about what you can do with your card:
Not sure if your school offers our Student Card? Contact them to see if they've partnered with us to make these cards available.
Parents & Guardians: if your school is not able to offer the Student Card, you can sign up for a Digital Library Card to access resources for your child, or sign them up for a standard library card at any of our libraries.
Check out these reviews written by our teen customers! We love hearing what you think. If you are in grades 7 – 12 and want to review a book you've read, submit your review. New reviews are posted monthly.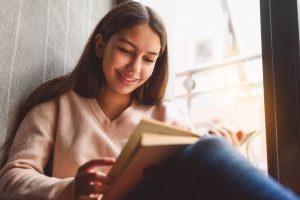 Discover & Go
Get free admission to museums around LA! (Parents or caregivers 18+ must reserve tickets.)
MākMō Maker Mobiles
MākMō lets you bring your most inventive creations to life! You can also check out STEAM Playlist on YouTube for videos of cool activity ideas.
Creative Virtual Programs with LACMA
Check out recordings of our Creative Storytelling workshops and Creative Careers series, in partnership with Los Angeles County Museum of Art.
Nature Exploration
You don't have to travel far and wide to be an explorer. Just go outside! Watch these program videos or borrow a Nature Exploration Bag.
Lunch at the Library
During the summer months, we offer free lunch at select libraries.
Printable Activity Ideas
Arts & Crafts, STEAM Activities, DIY Library Programs, and more.
Check out in-person and virtual events on our calendar. You can filter by age or location.
Chat with a librarian to answer your research and homework questions Monday – Friday, 12 – 6 pm. When a librarian is available, a chat box will appear on this page.
Quick question? Send a text message to 626.394.4019. Only available Monday – Friday, 12 – 6 pm. This number only accepts text messages.