Are you Work Ready? LA County Library Can Help!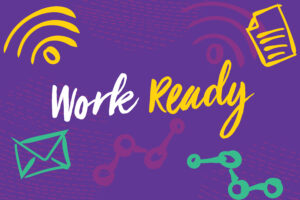 Are you currently looking for a new job, looking to build new job skills, or seeking out new career opportunities, but don't have the device or internet connection to make that happen? Work Ready is here to help you, and our resources are free for LA County residents.
About the program:
Participants borrow a laptop and wireless hotspot kit for 6 weeks from one of 27 participating libraries

Participants receive special support items to aid in the job search process, which they can keep

Weekly virtual events will cover topics ranging from writing cover letters and interviewing to identifying high-growth careers and working from home
Interested in participating? See laptop availability and get started!
And please see below for important info on events, featured videos, additional resources, and FAQs that will help kick start your new or existing career.
Upcoming Virtual Events
We have some valuable upcoming virtual programs that describe how to break into new professions, tips for resume building, and much more to come.
Check out recordings of past events on the Work & Career Playlist on our YouTube Channel.
Frequently Asked Questions
Program Enrollment
How can I attend the Work Ready programs?
Programs will be held as live programs on Zoom or videos posted on YouTube. A program schedule will be included in the Work Ready Kit, and you can also see upcoming programs on our virtual programming page virtual programming page.
Which libraries are part of the program?
There are 27 libraries participating in the program, including: Baldwin Park, Charter Oak, Clifton M Brakensiek, Compton, East Los Angeles, East Rancho Dominquez, El Monte, Florence, Graham, Hawaiian Gardens, Huntington Park, La Puente, Lake Los Angeles, Lancaster, Leland R. Weaver, Lennox, Los Nietos, Montebello, Norwalk, Quartz Hill, Rosemead, San Fernando, South Whittier, Topanga, Willowbrook, and Woodcrest.
How do I check out a Work Ready kit?
550 laptop and wireless hotspot kits are available for each session on a first-come, first-serve basis at Work Ready locations. No pre-registration is required. You can check laptop availability via the library catalog or by calling the library location.
Laptop Kit Check Out
Who can check out a Work Ready kit?
Adults with a standard adult library card that is in good standing will be able to check out a Work Ready kit at a participating library.
If you don't have a library card or have a digital library card with LA County Library, you can get a standard card at any of our Sidewalk Service locations. Please remember to bring your supporting documents. For more information, see: Library Card ID Requirements (pdf).
Am I required to attend the virtual programs if I want to check out the Work Ready kit?
Although we encourage customers to attend the programs to take advantage of the learning opportunities, attending the virtual events associated with Work Ready is not a requirement for borrowing the laptop.
Will the library have my kits reserved for me?
No, the kits are available on a first-come, first-served basis at each Work Ready location. We recommend checking the library catalog or calling the library location to verify availability.
How long can I keep the Work Ready kit?
The Work Ready laptop and wireless hotspot kit can be borrowed for six weeks at a time.
Laptop Kit Return
How do I return the Work Ready kit?
Work Ready kits must be returned in person during service hours at the library location that you originally checked out the item. They cannot be returned at the bookdrop or a different library location.
What if I return the Work Ready kit late? Are there late fees?
There are no late fees, however 28 days after the due date the item will be assumed lost and you will be charged the full price for it. Additionally, the Work Ready laptop and hotspot will become disabled once the loan period has ended.
Will my documents stay on the Chromebook after I return it?
All documents are deleted every time the laptop is shut down. This will happen even during your 6-week checkout period, so we advise you to back up your documents on a flash drive or in Google Docs if you are working on something you want to keep.
Technical Questions
Does the Chromebook include the internet?
A wireless hotspot device is included when you check out the Chromebook. This will give you access to the internet.
Will library staff provide instructions on using the equipment when I check it out?
A basic instruction sheet will be provided explaining how to turn on and connect the equipment. For additional support, please call the library where you picked up the laptop during their service hours.
I am not good with computers. Will Library staff help me use the Chromebook or answer technical questions?
Library staff is able to provide basic help with your computer—like how to turn it on, connect the wireless hotspot, or how to locate programs. For help, please call the library where you picked up the laptop during their service hours.